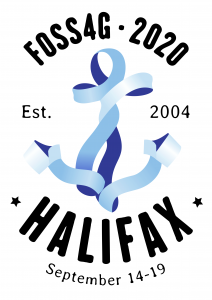 The HFX local committee is made up of experienced OSGeo community members (several current OSGeo Board of Directors, OSGeo local chapter Board members, OSGeo project members, OSGeo Charter Members) and experienced Halifax industry members, who have planned events of all sizes.  The HFX team began informal meetings around Christmas 2017, had their first venue walk-through in June 2018, and their kick-off local committee meeting in July 2018.   Please welcome the HFX team, to represent the OSGeo community in 2020:
Co-chair: Karine Jean
Karine Jean, from OSGeo-Québec, has been working with the Québec Geospatial and Open Source community for almost 10 years. She has been actively organizing GIS conferences in the province of Québec since then, and considers planning events to be her passion. She has led 4 major Québec geospatial conferences during which she worked with both OSGeo-QC and OSGeo-Ottawa local chapters, as well as LocationTech. In addition to working mainly in Québec, in 2015 she was on the organizing team behind the FOSS4G-Europe event in Como, Italy.
For the past year, she has been actively involved with OSGeo's Québec Chapter as a member of its Board. Since her arrival, she has been involved in the organization of a GeoHack in Morocco, leading the festivities to celebrate 10 years of OSGeo-Quebec, as well as other promotional activities. She is also a Charter Member of OSGeo.
Co-chair: Jeff McKenna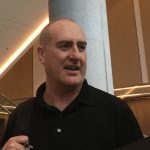 Jeff McKenna, from OSGeo-Atlantic Canada, was part of the original vision to create a global FOSS4G event, by merging the GRASS GIS and MapServer community events in 2004, and subsequently was involved in all of the FOSS4G local committees up to & including FOSS4G-Denver in 2011. Jeff was also a member of most of the workshop committees for many of the past FOSS4G events, and in fact remotely planned the FOSS4G Denver code sprint for over 120 attendees. Jeff also led the first ever formal meeting with the UN GIS team in Seoul in 2015 as President of OSGeo, which led to the formation of the UN OpenGIS Initiative. More recently Jeff has focused on assisting smaller regional FOSS4G events, and now gives a lot of his time to young OSGeo students through several community initiatives.  Jeff is a founding Charter Member of OSGeo, and is constantly sharing his passion for Open around the world to all communities.  He proudly calls Nova Scotia home.
Program chair: Jérôme Jacovella-St-Louis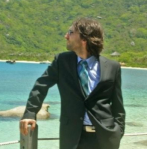 Jérôme Jacovella-St-Louis founded the open source Ecere Cross-Platform SDK project in 1997, and also designed the eC programming language in 2004. Jérôme founded Ecere Corporation in 2005, and is currently leading the R&D of the company as CTO. Ecere's latest focus is developing the GNOSIS geospatial visualization tools. Jérôme is involved in the community as a Charter Member of OSGeo, as well as a co-chair of the Ottawa Local Chapter, and contributes to shaping the future of web mapping services by collaborating with the Open Geospatial Consortium through its Innovation Program.
Academic chair: Prof. Thierry Badard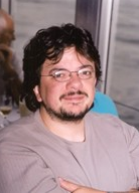 Dr. Thierry Badard is professor in geoinformatics at the Department of geomatics sciences of Université Laval in Québec City. He is the director of the Centre for Research in Geomatics (CRG) and is also on the steering committee of the Big Data Research Centre (BDRC) at Université Laval. Dr. Thierry Badard is a developer, administrator and project coordinator of several open source projects : GeoKettle, GeoMondrian, SOLAPLayers and GeOxygene. He is a Charter Member of OSGeo and has acted as a past member of the OSGeo conference committee and a reviewer for the OSGeo Journal for several years. He is one of the founding co-chairs the OSGeo Québec local chapter and a founding co-chair of the ICA (International Cartographic Association) commission on open source geospatial technologies. He has also recently founded Ekumen, a company specialised in Location analytics & geomarketing where he acts as CTO.
Here's the Full team:
---
Brought to you by: